The gems of the Portugese Azores aren't the rare American migrant birds. No, they're the endemic Azores Bullfinches (pyrrhula murina), found at the eastern tip of the beautiful island of São Miguel. Some would claim that these birds are less than inspiring to look at and thus not worth observing but as a lover of finches I find them anything but dull. I would go so far as to call them beautiful and even mysterious due to the 'Priolo's' (the Portuguese name for the species) history; once being thought extinct and then rediscovered.
These non-migrational Azores Bullfinches live far away from their relatives, residing on the mountainsides of Pico da Vara (1103 metres), found in the eastmost-part of São Miguel. Both sexes of the Azores Bullfinch look similar to the female Eurasian Bullfinch but with notably darker grey-buff wing-bars and rump (with only a small whitish band on the lower rump), shorter wings and thicker bill. The differences between the two sexes are not as clear as with most other bullfinch species. The males have a minimal pinkish hue on the underparts, hardly visible in the field. The Priolo is amongst the largest bullfinches, being similar in size to the Northern Bullfinch. The neighbouring bullfinches of the Iberian Peninsula (approx. 1400 km away) are slightly smaller. The call of an Azores is similar to the well-known plaintive pew call of its Eurasian cousins but rather plain and slightly longer. These birds pay little attention to playback of calls of Eurasian.
One of the largest enigmas surrounding these birds is how they ended up on this isolated peninsula. The Azores arose from submarine volcanic eruptions and were never connected to a continent. Are these birds descendants of a group of bullfinches that centuries ago got caught in the Azores by a storm? Were they smuggled by migrants? Could all the other bullfinch species have derived from this species? I wish I knew, though recent studies indicate that this species first flew our skies 500.000 years ago.
This tough bullfinch was described in 1866 (Godman) and at that period of time it was a regular bird at São Miguel. Azores Bullfinches were considered as a pest by orange growers and consequently hunted. Successfully, because in 1907 alone, the Austrian Rudolf von Thanner shot 53 individuals (including two specimens I found in a drawer in the Zoological Museum, Amsterdam, the Netherlands, were probably two of them).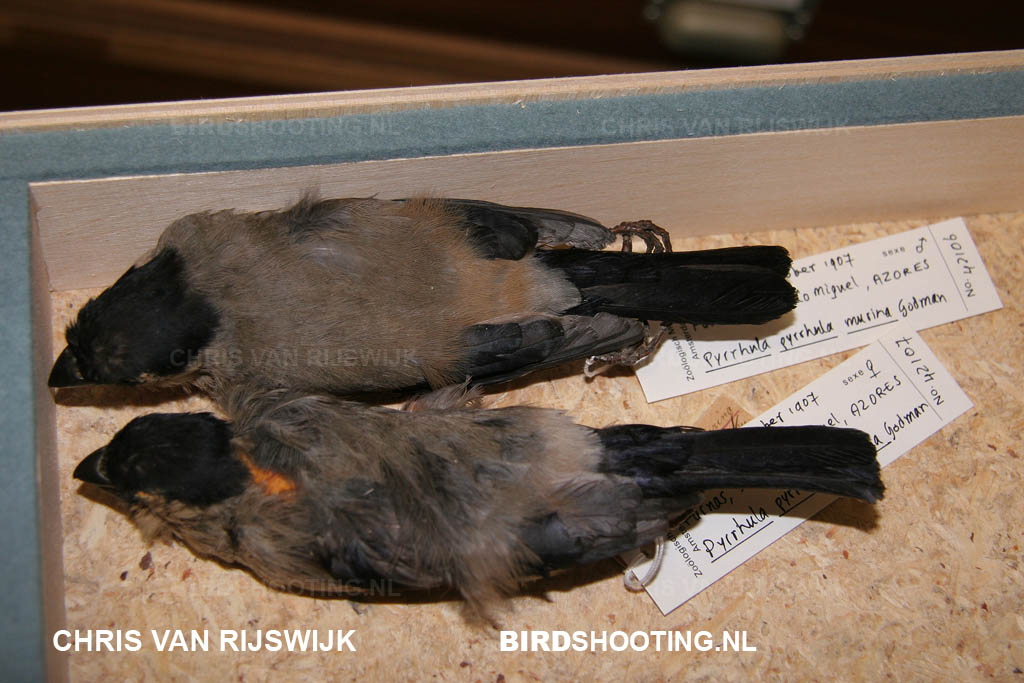 Azoren goudvink - 2009 - Zoölogisch Museum Amsterdam
In 1927, an employee of the American Museum of Natural History collected trophies of what were thought for a long time to be the last five birds of this species. I find it unbelievable that one would shoot the 'last survivors' of a species, just to have them gracelessly stuffed for a museum. For decades nothing was heard of them, but fortunately, the species wasn't truly extinct and a small population of 60-80 birds was rediscovered in the 70's. During the early 90's, the Azores Bullfinch became a protected species under Portuguese law and several action plans for its population recovery and survival have been implemented. For instance Japanese Cedars and other exotic flora are being progressively removed and replaced by native plants. As a result the species' future seems more positive nowadays with a current population size estimated at 1800 individuals, still making it one of the rarest birds in Europe. I got a lot of the above information from the (unfortunately prematurely cancelled) 'De sneeuwputter' magazine (volume 1, number 3, 1996) and further on I relied on Gerbrand Michielsen and Pedro Rodrigues' experience as much as possible.
The first time I visited São Miguel to photograph these birds was in September 2012. I wasn't entirely satisfied with the result of my pictures and therefore decided to visit São Miguel again in June 2014. This time I decided to hire a guide to increase my chances of taking good pictures. I booked Gerbrand Michielsen (Gerby) the first day of my stay to show me the bullfinch hotspots. This amiable Dutchman has lived in the Azores for about 25 years and is unmatched in locating the bullfinches. He advised me to watch for them in June or July as they'd eat flowers by the roadside, making it a good opportunity to take pictures.
Without the help of Gerby it wouldn't have been possible to take such photos of the Azores Bullfinch. I highly recommend hiring Gerby if one wishes to visit the Azores to watch the Azores Bullfinch.
Travel report:
April 13th, 2014
I left Schiphol Airport at around 16:00h and arrived, with a stop in Terceira, by 20:00h local time in São Miguel (there is a two hour time difference between there and the Netherlands). I picked up my rented car at the airport and immediately set off to Povoaçao; a trip of little more than an hour. I'll be staying at Hotel do Mar. Povoaçao promises to be a good base for my search for Azores Bullfinches.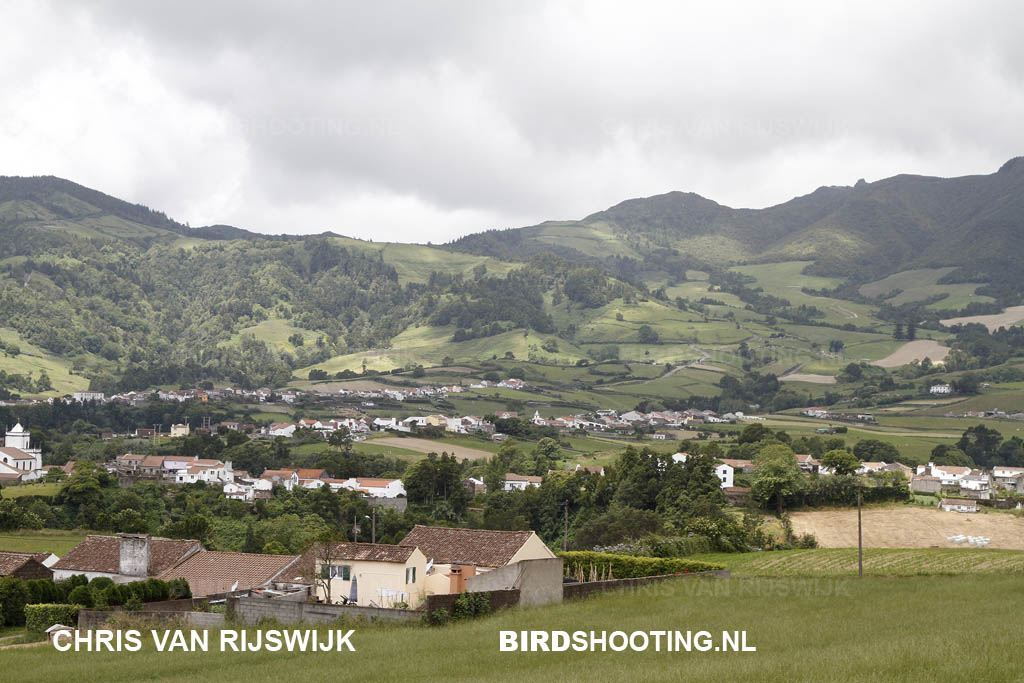 Saturday April 14th, 2014
At 8:00h Gerbrand Michielsen picked me up from the hotel and gave me a nice wooden bullfinch key ring as a present. That's a good start! The goal of today was not to take photos of the bullfinches (of course I took the camera with me regardlessly), but to get an understanding of how to find them. Gerby's a lively talker and a great guide. He knows a lot about the Azores and the traditional way of life in the Azores; that alone already makes it a pleasure to go out with him. He's shown me a few places where the Azores bullfinches could be expected. Gerby advises me to watch close to the ground for the bullfinches. As it's the start of the mating season, the bullfinches can be found eating flowers by the roadside. Besides the expected places, he's also shown me a few locations outside the sanctuary. One of these locations is a field where the bullfinches forage openly. This is very unique and I had to promise Gerby not to disclose this location. Throughout the day we saw more than 30 bullfinches, mostly in couples and remarkably often in threes. One day with Gerby has already provided me with enough information for the rest of the week. I ended this great start in the Azores with a well-earned pizza. Tonight there should be a magnificent firework display for the June festival in Povoaçao though I doubt I'll stay up for it because tomorrow I want to start early.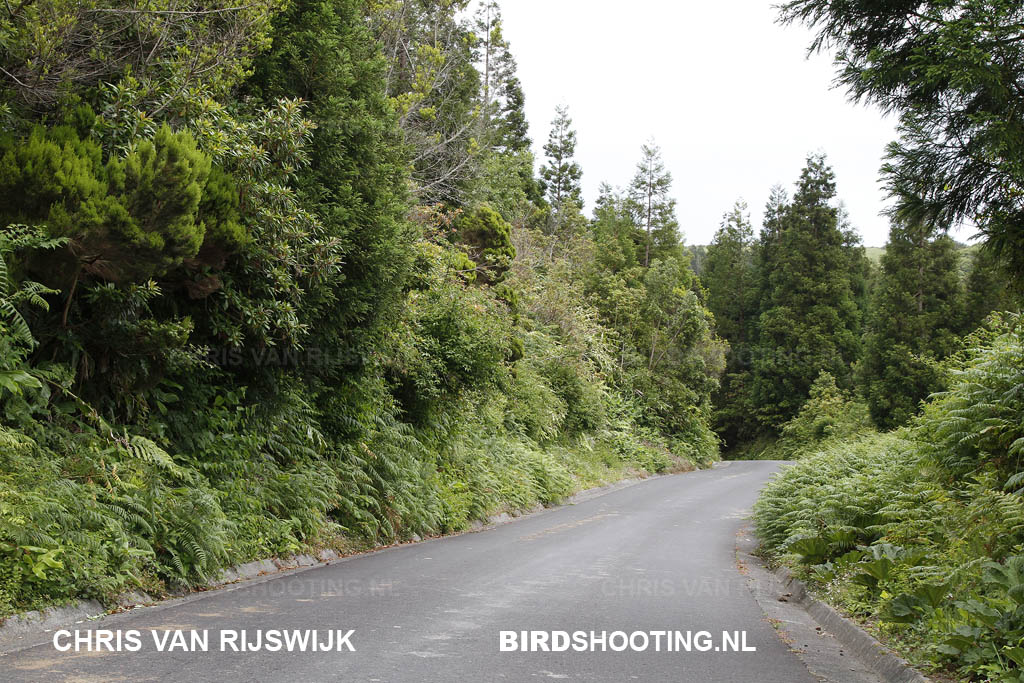 Sunday April 15th, 2014
At 06:00h I went out alone for the first time and set off to the open field Gerby had taken me yesterday. They were there today also. Since it's difficult to get close, I had to walk around the vicinity a bit. I found a few couples of bullfinches but they were also shy. Unlucky me! Finally I eventually came across a solitary bird that somewhat accepted to be approached and shot. I decided to drive back to the regular place and waited around an hour next to a parapet of purple flourishing flowers: Pinkhead Smartweed. While venturing back to the open field, I heard a Common Quail. I'm still surprised that Azores Bullfinches apparently stay in the open field. From what I've read up till now, the birds normally live in bushy, dark places on mountainsides. They seem to be colder brown color than in the shadow of the forest, where somehow their colour is a much richer one. Once in a while I hear a male singing.
I decided to give the open field another try. This time I tried approaching the bullfinches using a burqa. I also decided to use the silence mode on my camera as the clicking seems to scare them. Finally it worked out and the bullfinches came a bit closer. They just needed time I guess. The weather's been favourable thus far; mostly sunny with some clouds and a temperature of around 20 degrees Celsius.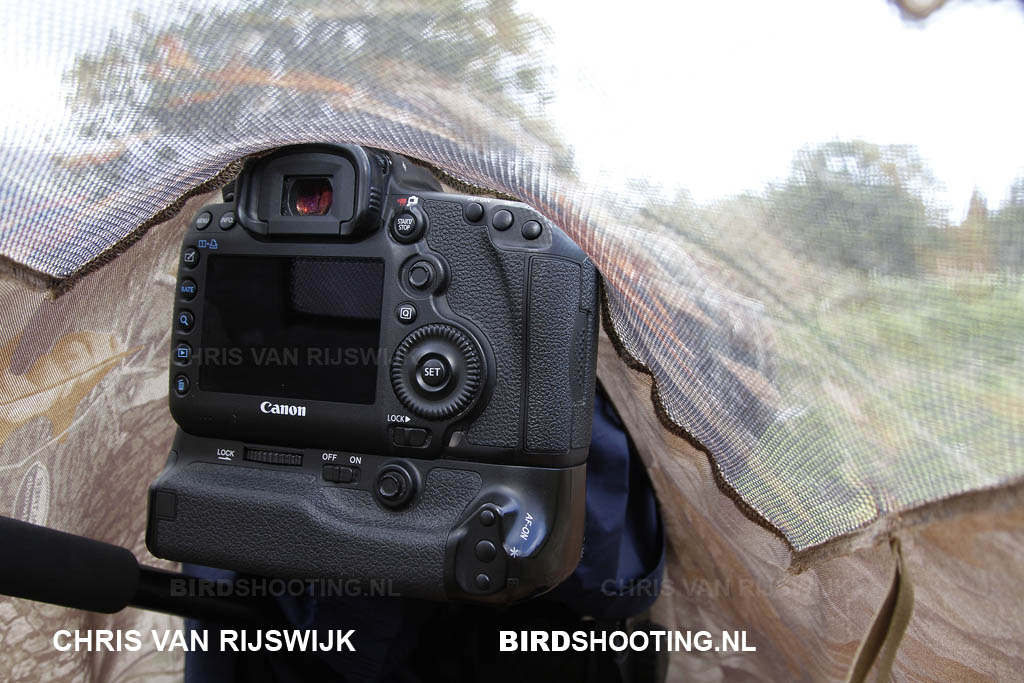 Other birds that I've seen today: Rock Dove, Wood Pigeon, House Sparrow (exotic species), Gold Finches (exotic species), Common Waxbill (exotic species), Canary, Common Quail (exotic species), Chaffinch, Cold Crest, Yellow-legged Gull, Common Tern, Blackcap, Robin, Blackbird (short tailed), Starling, Grey wagtail, Cory's Shearwater (calling at night) and a Buzzard. A few of these birds are other subspecies than European subspecies. It's just a short list, but I spend all my time shooting the bullfinches.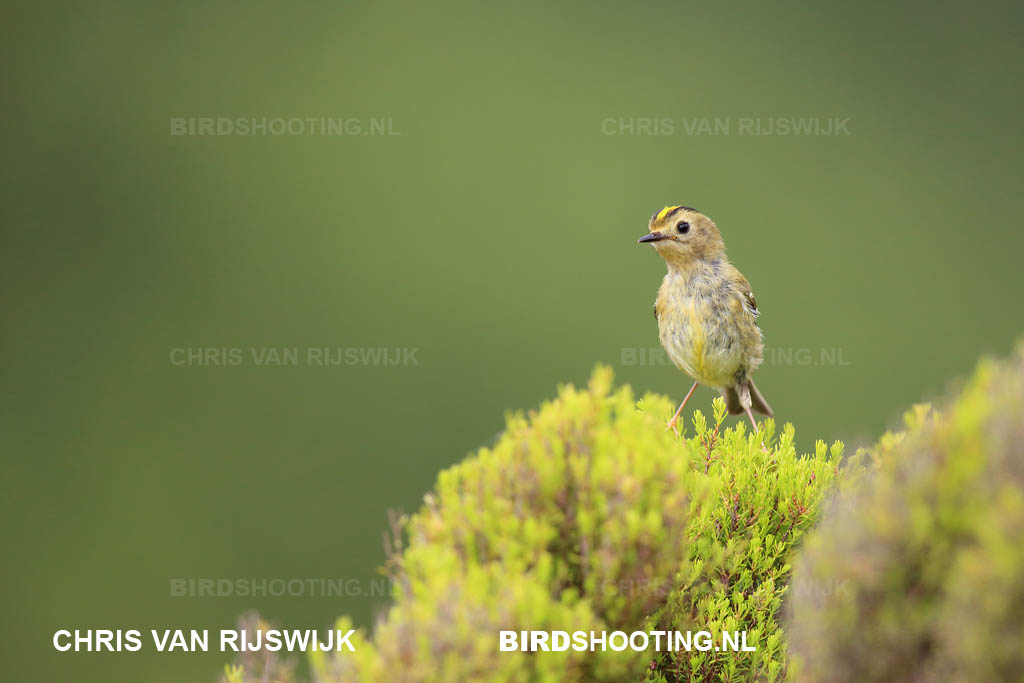 Monday April 16th, 2014
Today I started at 6:00h at the ordinary location. Two bullfinches were feeding each other but unfortunately it was too dark to take good pictures. I waited by the parapet with the purple flowers for around an hour again, and this time I was lucky! After breakfast I drove back to the open field location. It was dark and windy, so I decided to drive through Agua de Pau. Gerby had pointed out this location as a breeding site for Dougalls Terns. None of said Dougall Terns were anywhere to be seen but I did get to see a colony of Common Terns. It was too late for shooting; the light was too harsh but it's a good location to revisit in the coming days; after I've shot nice pictures of the bullfinches of course! As I was driving back through byroads to watch birds and take some pictures, I observed some bullfinches and even found a dead bullfinch by the side of the road. It had probably just been hit by a car as it seemed quite fresh. I took some pictures and saw it from all sides. It looked pretty complete, there were only a few loose feathers, including just one tail feather, and a wing wasn't quite complete.
Back at the hotel I bought myself a ruler to make measurements, pilfered some loose feathers and took a few more photos. Meanwhile I phoned Gerby and he arranged for a University Officer to pick up the bird for further research. He arrived in no time at all, maybe he was afraid that I would use my finding for a barbecue? As a thank you I received a small book. Hardly any dead bullfinches have been found, especially in such good condition, so the University Officer was quite happy with my discovery. He told me the estimated population at the moment was 1800 birds (of course minus one!). He also told me that research shows that bullfinches are pretty mobile within the limits of their concentrated habitat.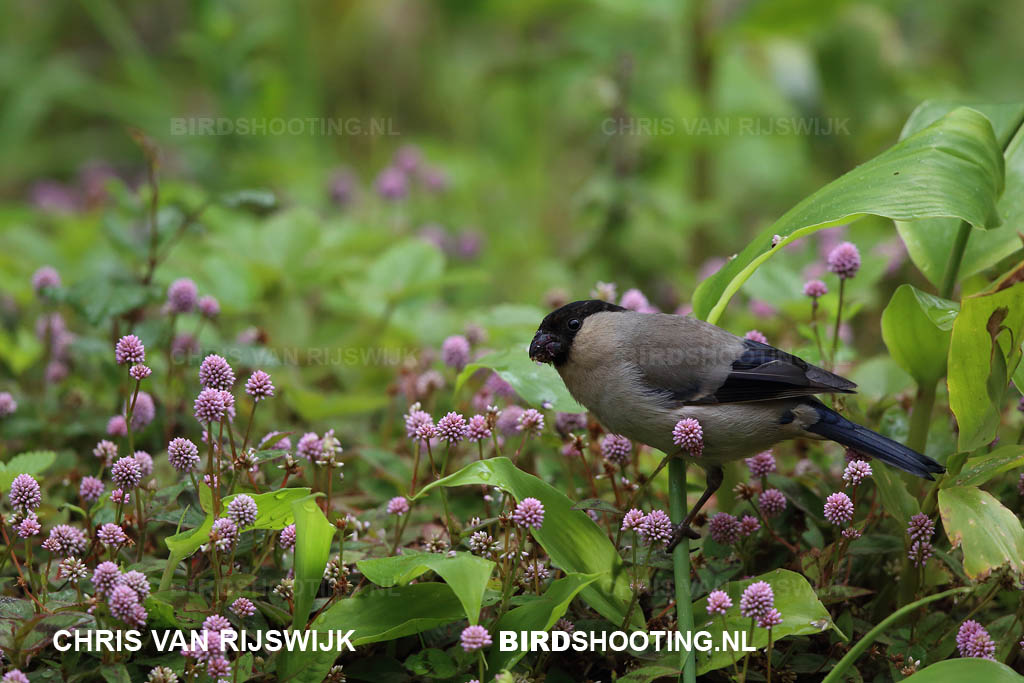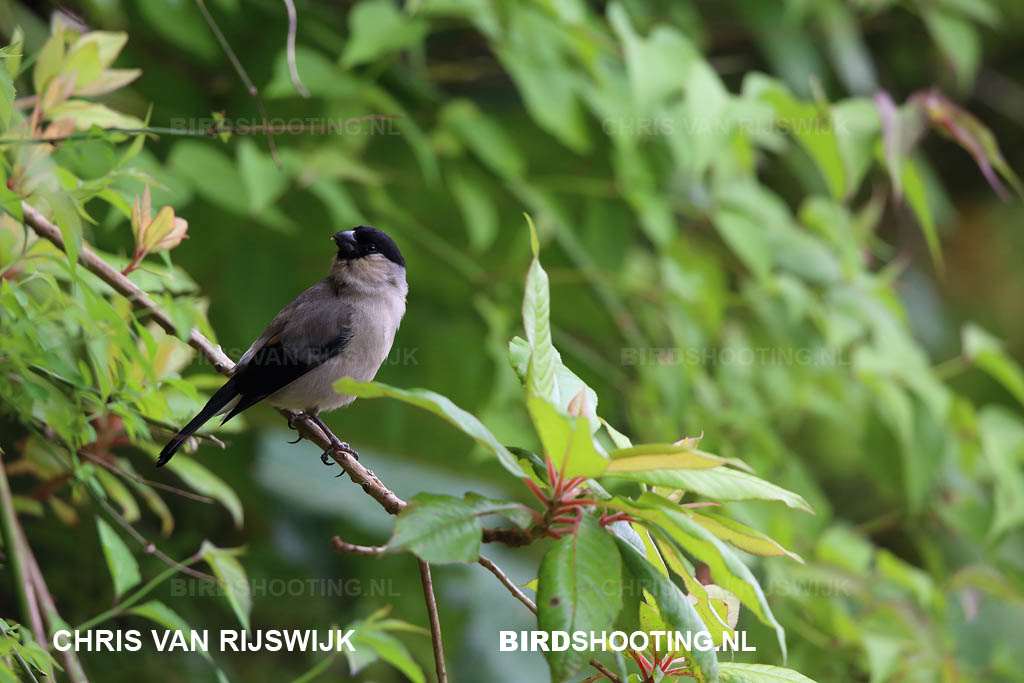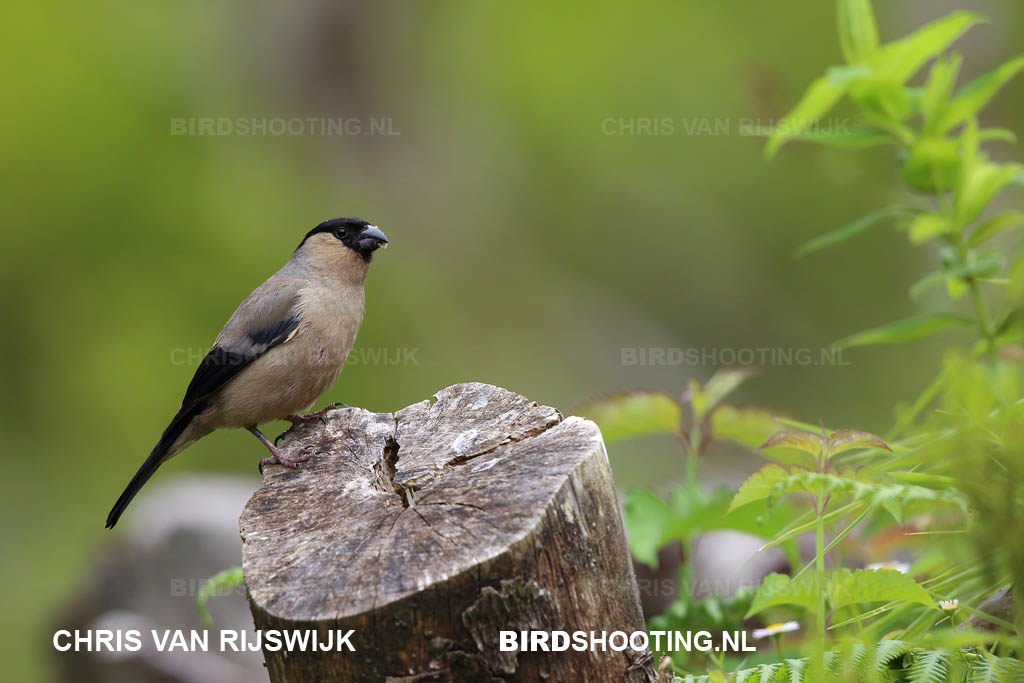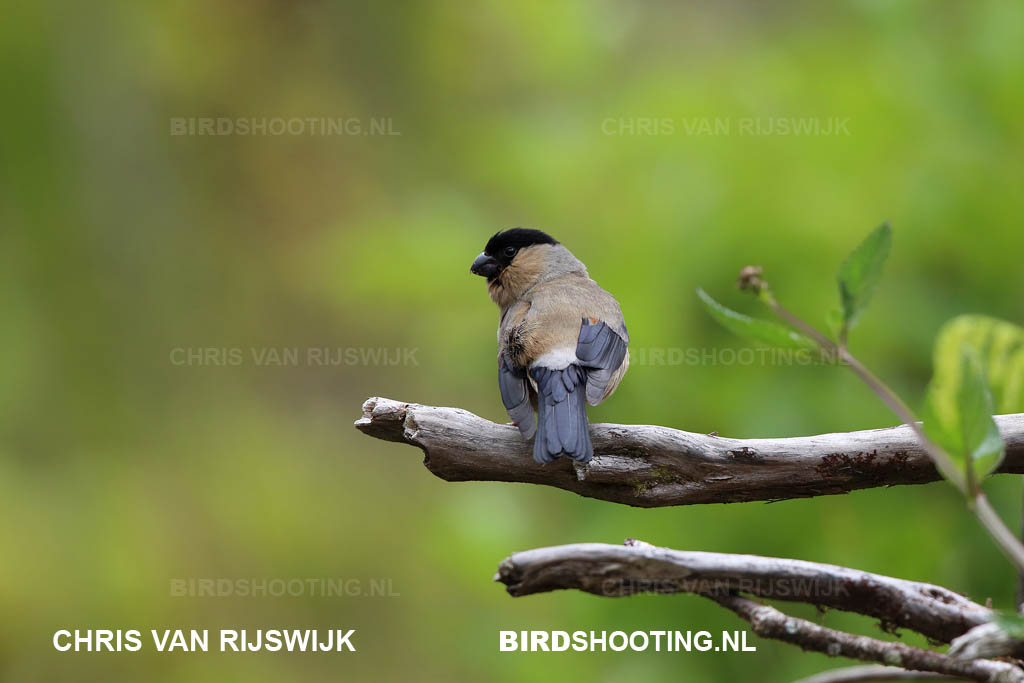 The measurements of the dead bullfinch are as follows:
From bill to tail: 16,5 cm
Wing: 8,7 cm
Bill height 1,0 cm Bill length 1,1 cm
Bill width 0,9 cm
Tuesday April 17th, 2014
A new day with new opportunities! I started at 06:00h at the open field location. When I arrived, I instantly heard bullfinches. A displaying male was showing off the well-known sideward motion of his tail. In this respect the Azores Bullfinches behave exactly the same as their European counterparts. Gerby had asked me to only shoot bullfinches foraging on native plants. Unfortunately I don't remember which plants are native or not. I was just happy to be able to take photos of this lovely bird and regrettably didn't place much attention as to where they were located.
After breakfast I drove to the regurlar spot and decided to treat myself to a visit at the Priolo visitor centre, at least that was the plan. The visitor centre is located in the neighbourhood of Nordeste and there's a long winding road towards it. When I finally arrived, I found that the centre was closed for restorations. It's a pity that is wasn't mentioned at their website as I would have been spared a pointlessly long trip. Back at the open field it's pretty windy and my burqa is flapping in the wind. I lied down sideways to save my painful back, waiting and reading the book 'The Hundred-Year-Old Man Who Climbed Out of the Window and Disappeared', by Jonas Jonasson. I highly recommend it (the book, not lying down sideways)! I waited there for more than 1,5 hours without much luck until finally a bullfinch landed just behind me; sadly it disappeared by the time I carefully turned over. Just as I was just about to give up on today, a couple of bullfinches landed next to me twice: at just around 7-9 metres distance! Which not only was enjoyable, but it also made for a perfect photo-opportunity! Overall it was quite a nice day and only got better once I had an opportunity to take pictures. The weather was rather unpredictable, varying continuously between sunshine, clouds and rain.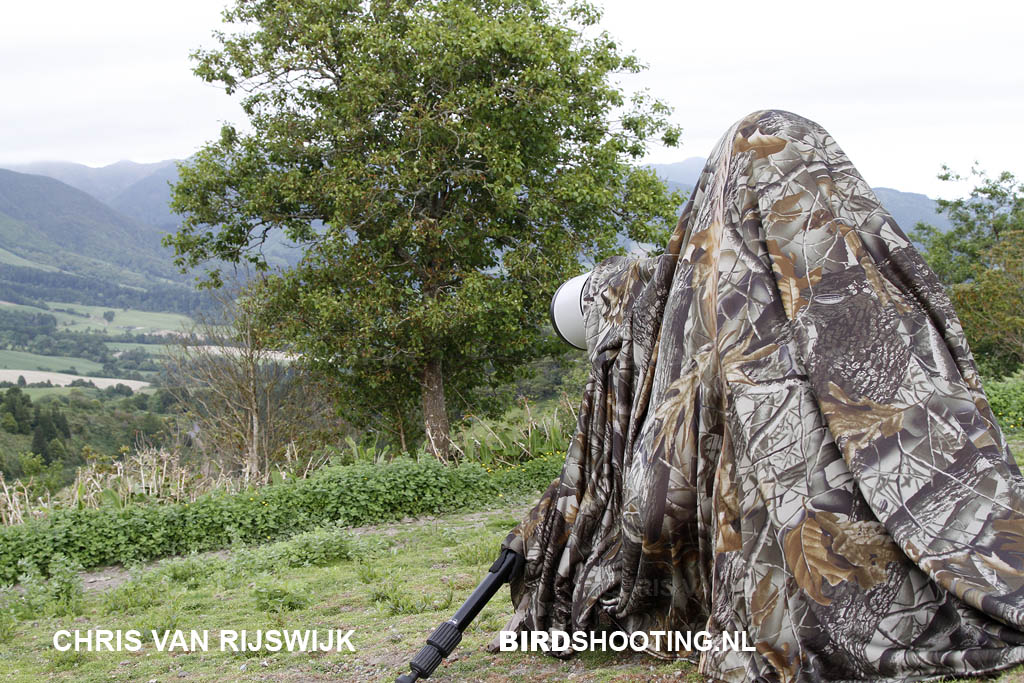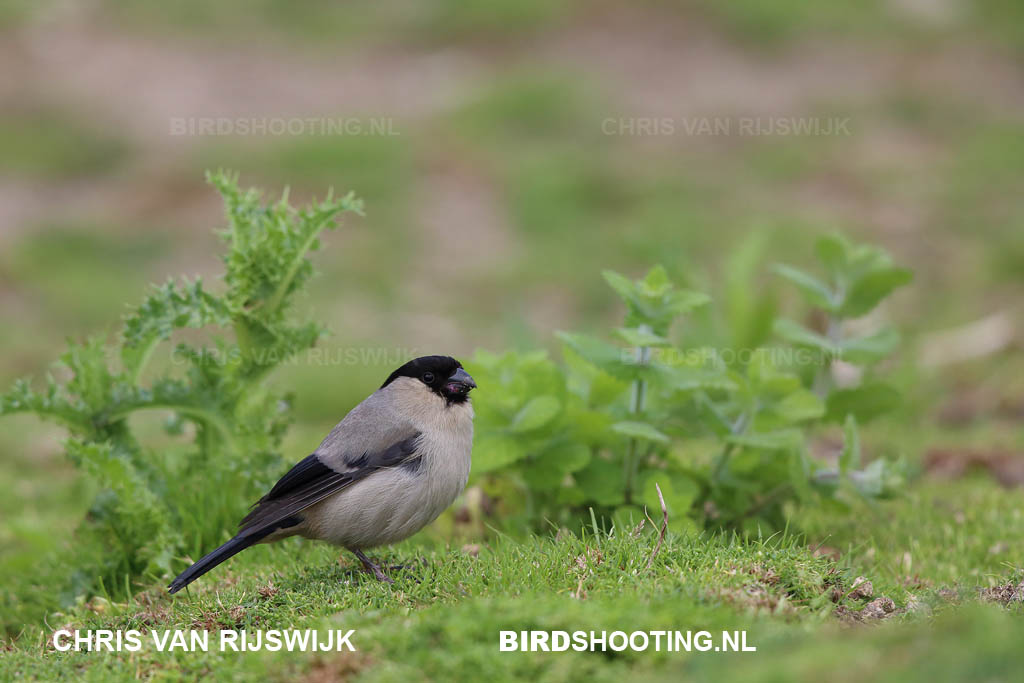 Wednesday April 18th, 2014
Keeping in mind the success of yesterday, I changed my approach today. I had my breakfast and only left at 8:00h, parking my car next to a nice flowerbed in the regular location. I spent many hours there despite the fact there were no reports of any bullfinches. After lunch at Povoaçao I spent the rest of the afternoon at the secret location. Luckily that investment yielded some results; I observed the highest amount of bullfinches at the same time: seven individuals. At 16:00h I watched the soccer match between the Netherlands and Australia (3-2) and happily drove again to Priolo. Success yet again! I saw a couple of bullfinches eating grit from a wall. Through Gerby I had e-mail contact with Pedro Rodrigues, a researcher and ringer of bullfinches. If the weather's good (not too sunny and not too windy) he will try catch bullfinches this Friday morning to take samples. And I have permission to join Pedro, that's a nice prospect!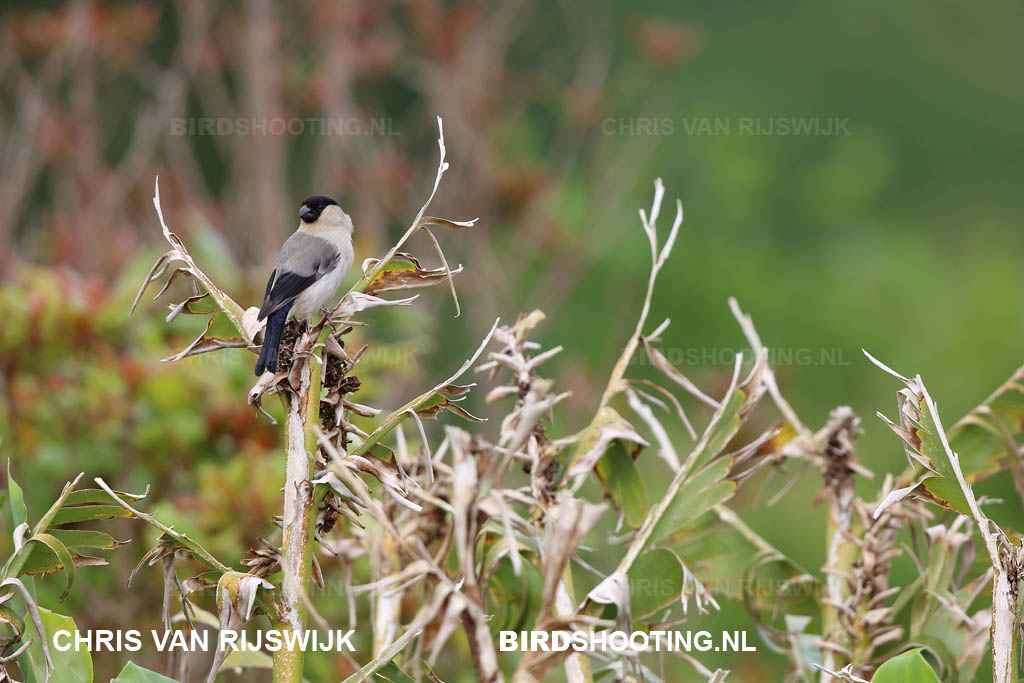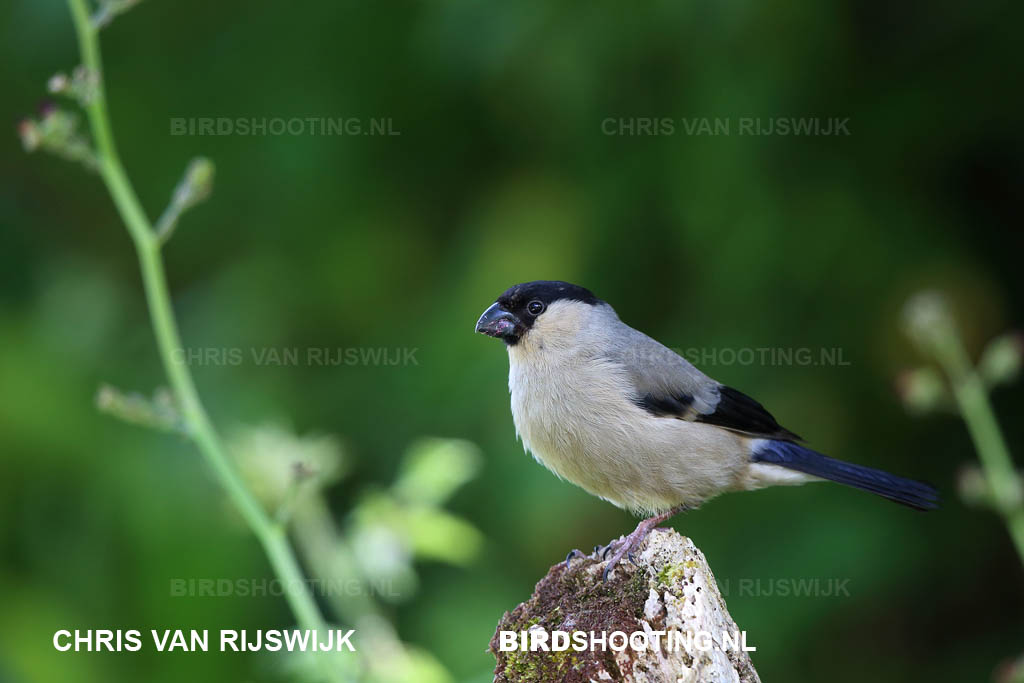 Thursday April 19th, 2014
I went out to the open field at 8:30h. A bullfinch was foraging around ten metres away from the car. I stayed there till the sun began to set but didn't take many photos. I don't mind though as I'm happy with the results of the last few days. Pedro reported by e-mail that he will be in the same hotel overnight and that he will join me tomorrow ringing. That's really nice! Today I had dinner together with him and his girlfriend, Joana; we shared some beers and had a very nice chat about (of course) the Azores Bullfinches and also about life in the Azores. I ended the day by packing my suitcases and paying the hotel in advance, so tomorrow I will make the most of the day and drive straight from the bird catching area to the airport.
Friday April 20th, 2014
My last day at the Azores. Will we succeed to catch a bullfinch? It would be an award to the already wonderful photo trip. Together with Pedro and Joana we set off early. We put on the mist nets but it turned to be a sunny day. That was very bad. Birds would see then the nets in the sunlight and obviously wouldn't fly into them. Nevertheless we caught a Gray Wagtail, a Canary and three Chaffinches. That was great of course, but all we really wanted was a bullfinch! And we almost succeeded too! A Priolo flied in the mist net, but this clever bird escaped before Pedro could catch it. Shit happens! I saw Psalm 124 come true: 'We have escaped like a bird from the snare of fowlers; the snare is broken, and we have escaped!...' I hope this doesn't ring true for the rest of our little operation!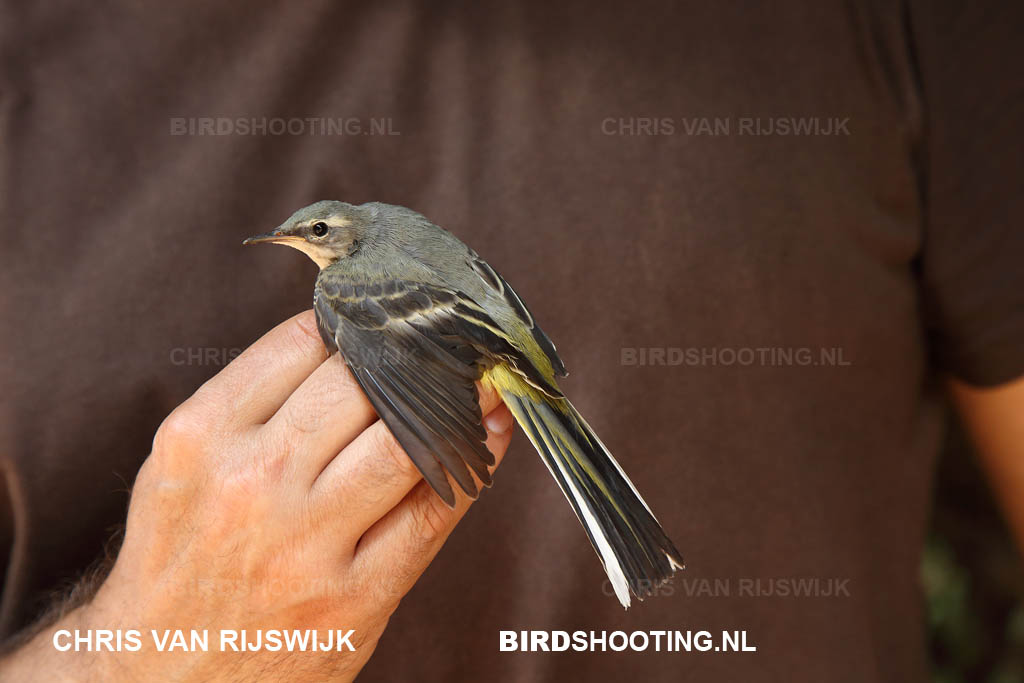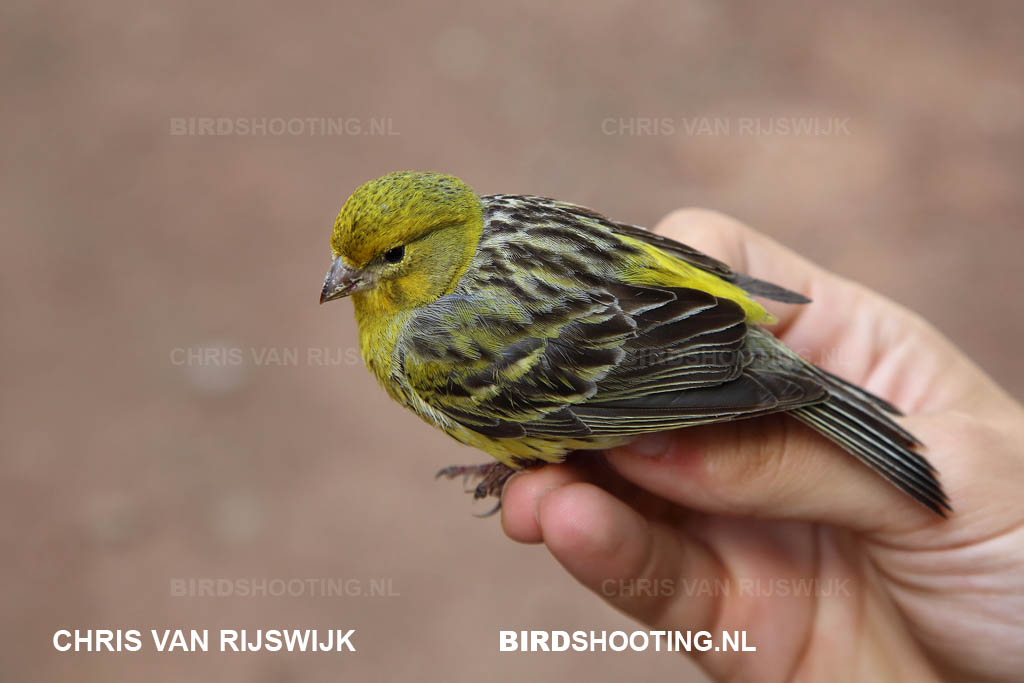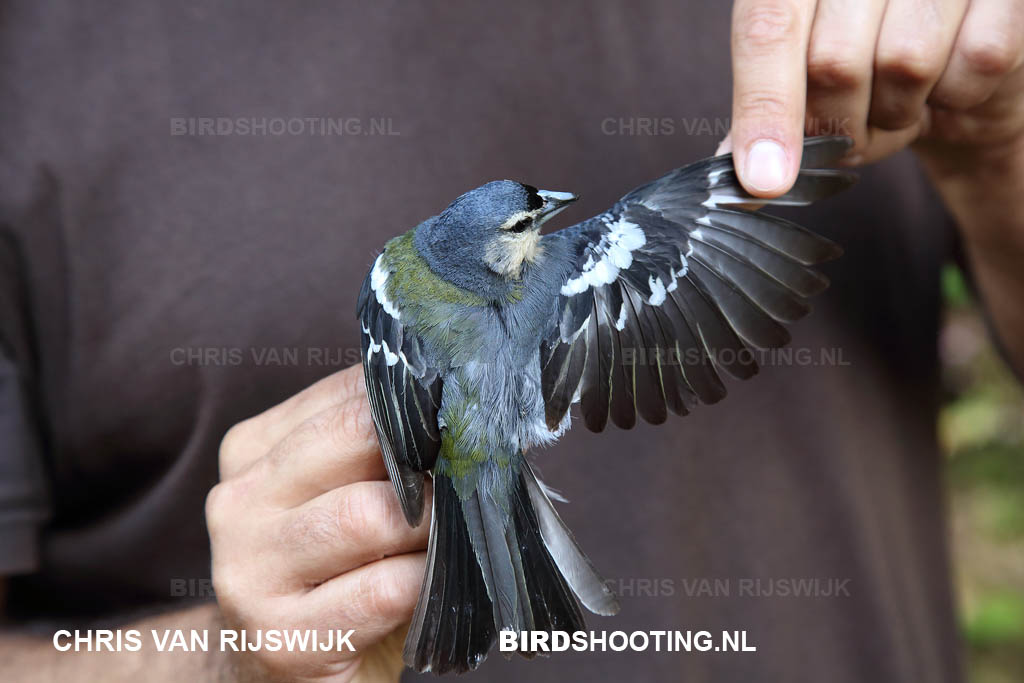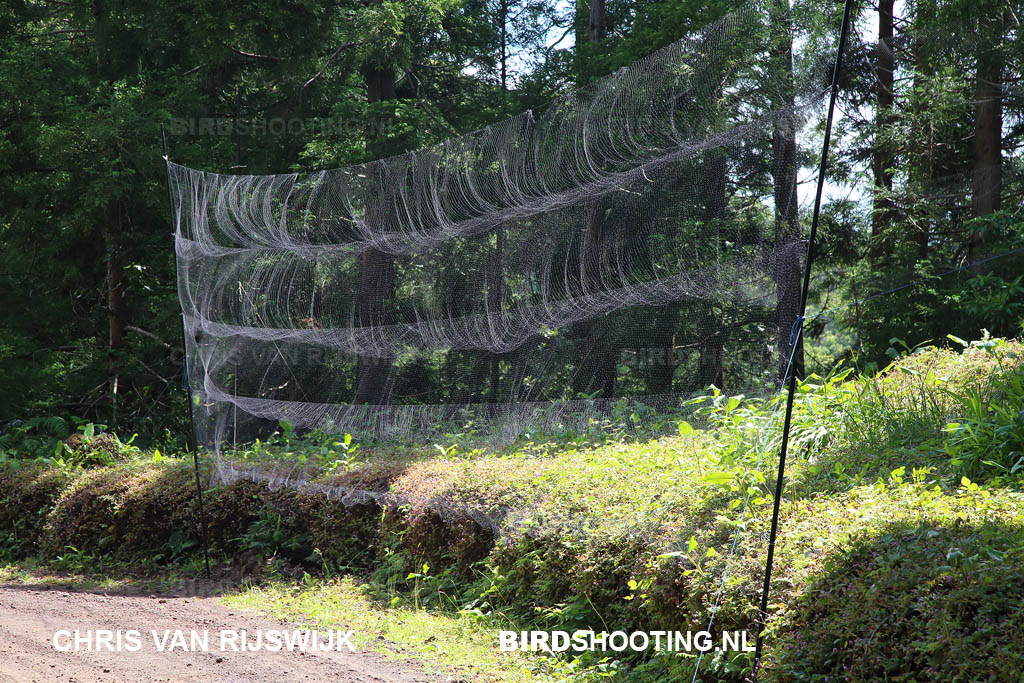 Pedro felt defeated but did his utmost to catch an Azores Bullfinch. He is very good in imitating the call of the bird and sequentially attracted a few bullfinches to the field. Alas, it was to no avail. Unfortunately I should have left at 14:00h to catch my flight to the Netherlands. Reluctantly, I loaded my photo equipment in the car. It was already 14:15h and I really had to leave. Together with Pedro I walked one last time along the nets and at that moment the impossible happened. A bullfinch flew out of the grove and right into the mist net! Pedro was there in a flash and caught the unlucky bird. Against all the rules Pedro allowed me to immediately take pictures (rule number one of the universal ringers handbook is to first ring the bird, take its measurements and after that look at the catch and take photos; after all it's possible that the bird will escape without a ring). What joyful relief! There was a quick but warm goodbye and a fast drive to the airport. I arrived just in time to catch my plane to Schiphol Airport. Lucky me!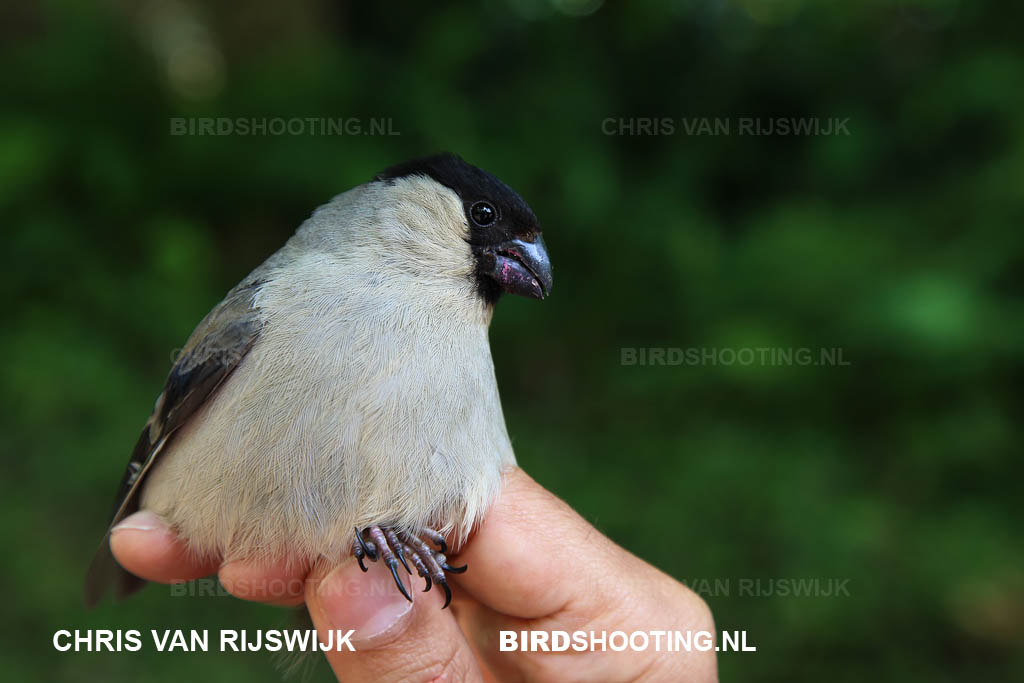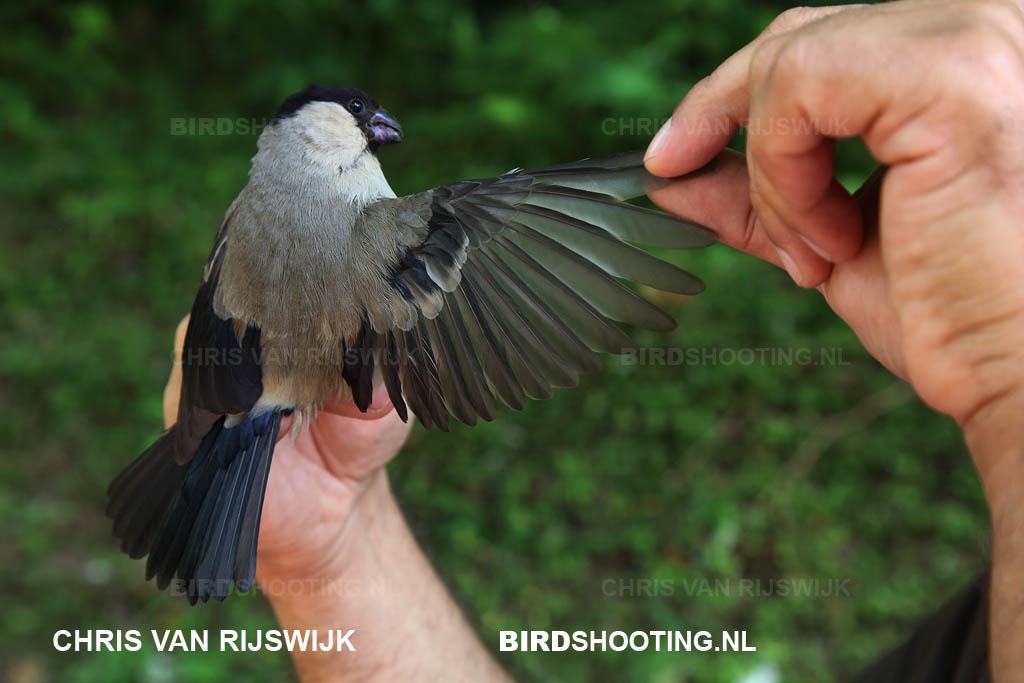 I love the Azores...



Dutch Birding published my article about the Azores Bullfinch (volume 37, no 1, 2015):